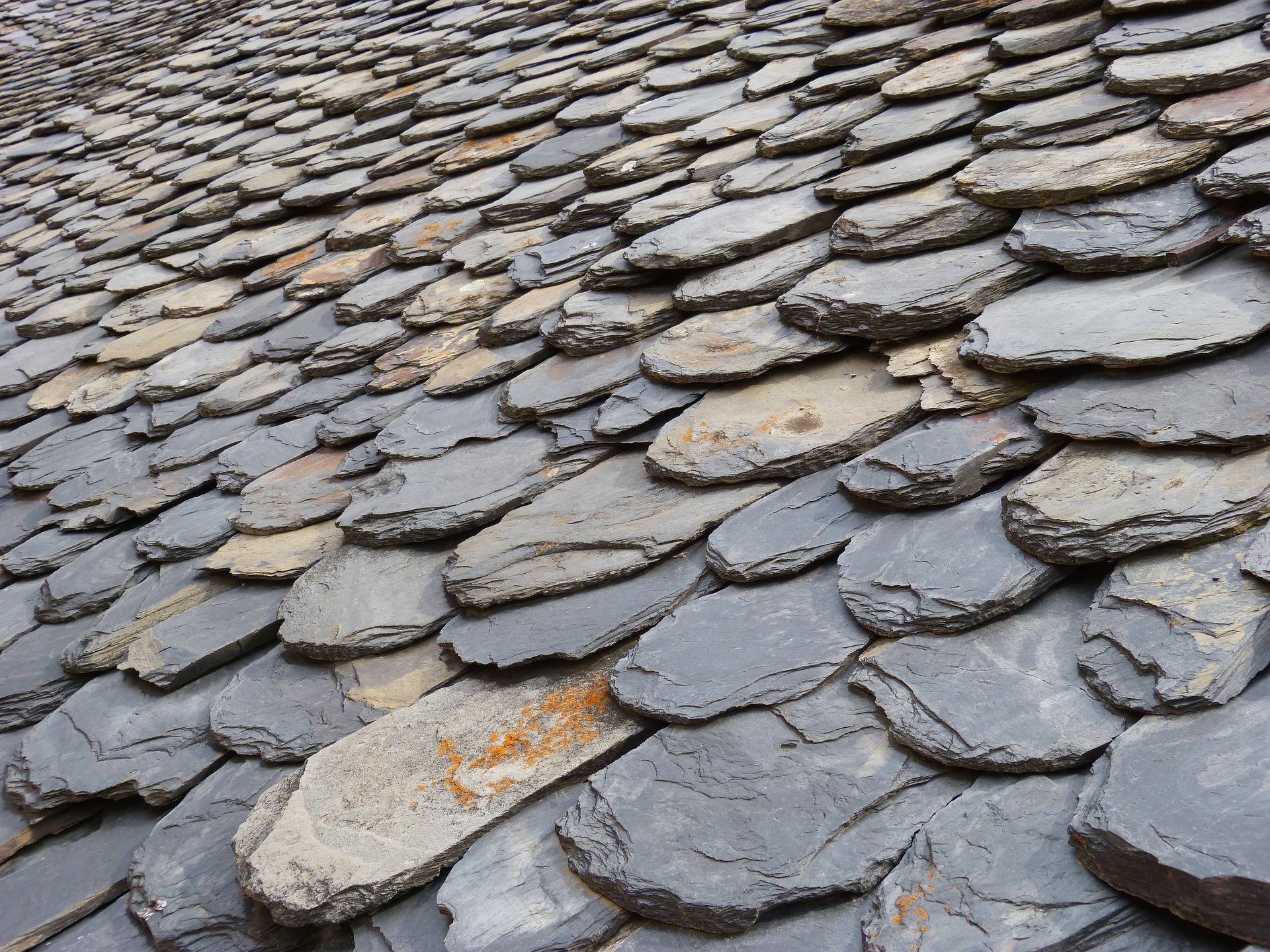 Synthetic Stone Slate Roof Tile St Louis
Are you looking for a new roof or roof replacement in St. Louis? Stone Slate Roofing is the pinnacle of the finest roofing material available on the market. Stone Slate Tile adorns the rooftops of many high-end mansions, government buildings, churches, and many other elegant, beautiful structures.
Stone Slate Roofing Tiles are traditionally cut out of rock using special tools then installed by fine craftsmen using traditional methods and toolsets.
It takes a special kind of roofing contractor known as a slater to build a stone slate roof with a special set of skills and know-how.
Composite Slate Roofing St. Louis
Stone Slate is an attractive option for those who can afford it because a traditional stone slate roof will normally last around 200 years.
You have a stone slate tile roof installed, and with proper maintenance the stone slate roofing will last for the rest of your lifetime, your children's lifetime, your children's children's lifetime, to the fifth or sixth generation.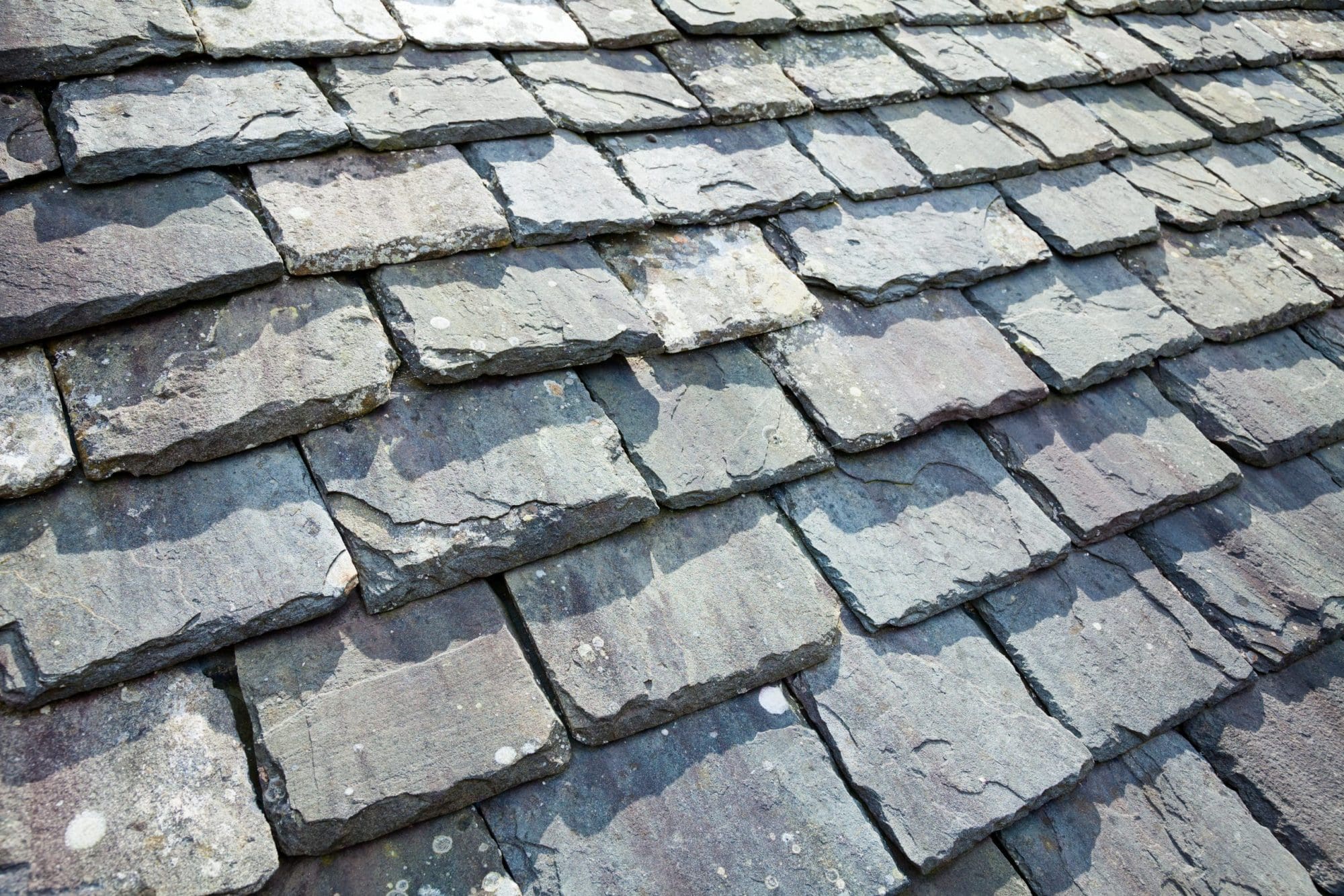 Traditional Slate Tile Roof
While traditional stone slate is a great roofing material, it also comes with some drawbacks.
First, weight is an issue. When you're building with traditional stone tile, special consideration must be given to the weight placed upon the structure. Usually special bracing and additional support must be built into your roof in order to support the weight of the stone roof. The causes construction costs to go up significantly, and the weight of the stone roof adds additional stress to the overall structure.
Second, stone tile roofing cracks and leaks. One of the major drawbacks of traditional stone slate tile roofing is the problem with cracked tiles. Every time someone walks on the roof, tiles will crack under the pressure of being stepped on. Every single cracked tile must be replaced, otherwise as moisture seeps into the crack and temperature takes over causing expansion, the cracks will get bigger and this will inevitably lead to a leak in your roof every time. Maintenance on a stone slate roof is costly and must be ongoing.
Third, traditional stone slate roofing is extremely expensive. Stone slate roofing is cost prohibitive for most consumers and businesses. While it is great peace of mind having a roof that will last the rest of your life, the cost is very high for traditional slate causing many consumers to pass on it as an option.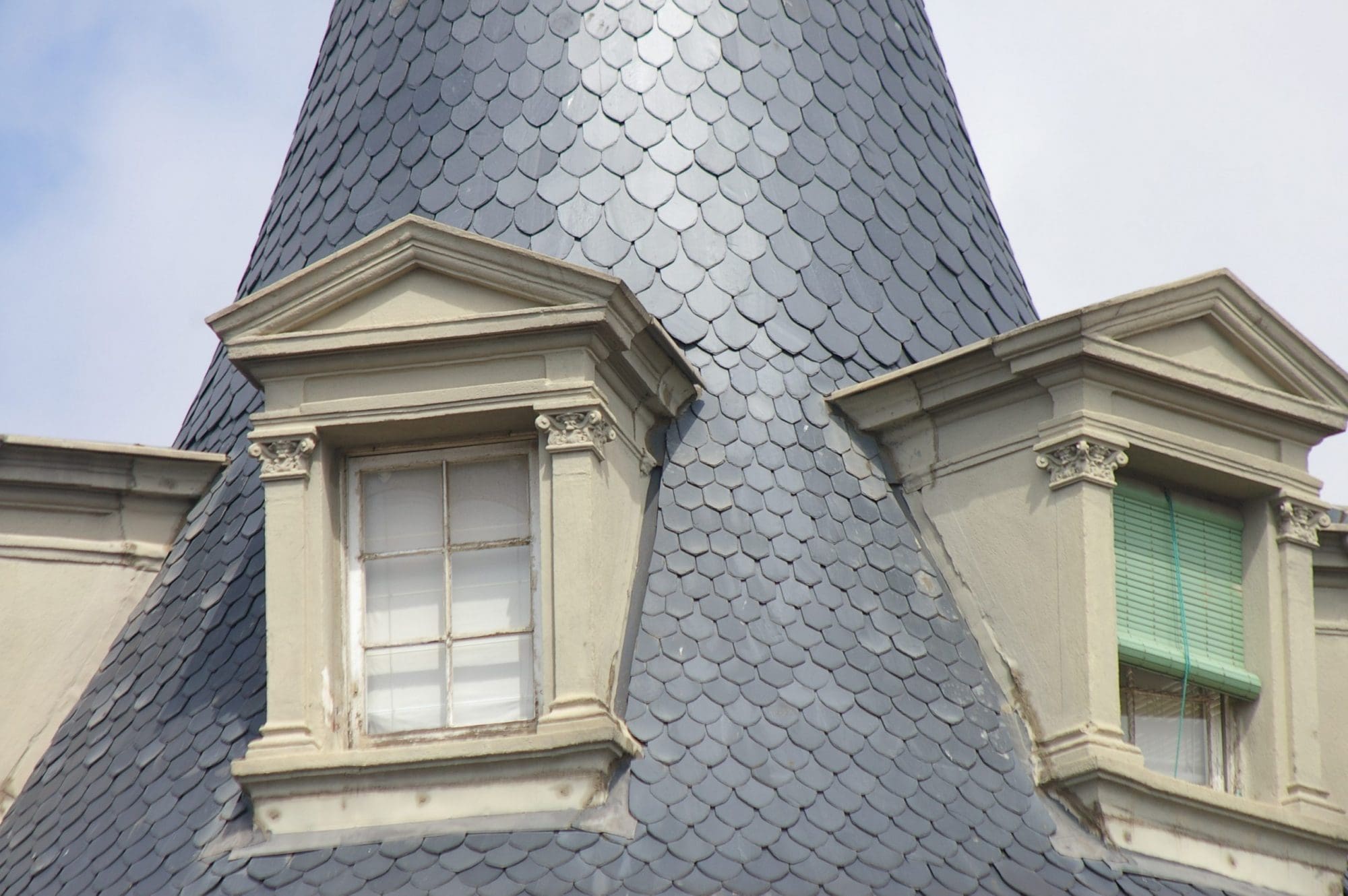 The Synthetic Stone Slate Tile Roofing Advantage
Imagine a roofing option with all the beauty and functionality of traditional stone slate without ANY of the disadvantages listed above. That's exactly what you get with Composite Stone Slate from St. Louis Synthetic Roofing!
Yes, we're serious.
Composite Stone Slate is made from a lightweight polymer material. There is weight to our durable composite slate tiles, but significantly less so than stone eliminating the need for the added expense of additional structural support.
Synthetic Stone Slate Tile does not crack like traditional stone slate. Our composite polymer tiles can be walked on without being subject to cracking. Our tiles are independently lab tested and shown to be Class 4 impact resistance (highest available) and Class A fire resistant (highest available). Maintenance is a non-issue with polymer slate.
Composite Slate is the affordable option for stone slate roofing. Our stone slate customers are shocked when they see a quote from us and compare it to the other company quoting them for traditional slate material. You will pay significantly less for our composite slate roofing material when compared to traditional stone slate tile.
The main advantage of traditional stone over our composite roofing material is the length of time a stone roof will last so long as proper (and expensive) maintenance is carried out over the lifetime of the roof.
Traditional Stone will last around 200 years - our composite roof will last 50+ years. Despite this, composite is still a much better buy given all the other advantages it affords. Zero maintenance, impact and crack resistance, and much lower cost. At the end of the day, the composite roofing option is the better buy quality purchase for what you get.
Want to chat some more? Please give us a call at 314-652-3903
We offer complimentary roofing consultations and quotes for our roofing customers in St. Louis or the surrounding areas. Please contact us today. You may also fill out the Free Quote form on this website.