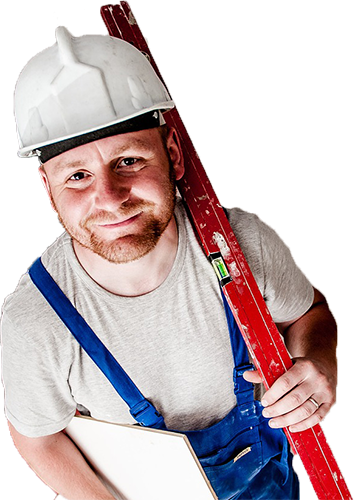 Commercial Roofing Contractor Missouri Illinois
St. Louis Synthetic Roofing proudly offers composite roofing solutions for commercial customers in St Louis MO and the surrounding areas. Whether you're
the owner or commercial property manager of a retail market, apartment complex, church, government entity, city or state park, sports complex, hotel chain, or other type of commercial property we have synthetic roofing options that will work for you.
There are many great advantages to synthetic roofing over traditional roofing materials for your new roof in St Louis, and our commercial roofing customers love the affordability and functionality of our composite roofs.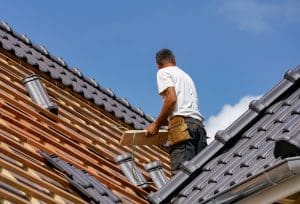 Best Commercial Roofer St Louis MO
Whether you're in the market for a composite wood shake roof, barrel tile or stone slate roof in St Louis, we can help you with our affordable, durable synthetic roof solutions.
We specialize in synthetic roofing in St. Louis and love seeing our customers eyes light up during a consultation with us. When you've been shopping for premium roofing and compare the advantages of composite roofing to traditional materials, the reactions are often fun to watch. Check this out.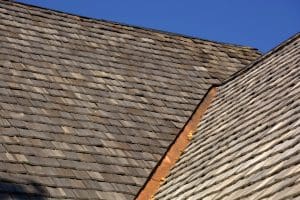 Wood Shake Roofing Chesterfield, Eureka, Ladue
Shake roofing is a higher-end roofing material that looks beautiful on apartments, hotels, resorts, non-traditional office buildings, and other structures owned by people concerned with beauty, quality, and architectural interest.
Wood shake roofing is an attractive option for many commercial property owners in St. Louis because of it's beauty and the long-lasting nature of a property maintained shake roof.
While there are many advantages to shake roofing, there are also some disadvantages. Shake roofing is subject to rot and pests, is a major fire hazard, and will last around 20 years in St. Louis.
What's the difference with our composite wood shake roofing solutions? Mainly synthetic roofing has none of those problems. Composite cedar shake tiles are cheaper than real wood, will not rot, will not attract pests, and are independently lab tested to have a Class A fire-resistance rating.
The bottom line is our commercial roofing customers in St. Louis and the surrounding areas will pay less over time for a composite shake roof installed without any of the headaches or maintenance requirements of traditional wood shake.
Interested? Get a free consultation today at 314-652-3903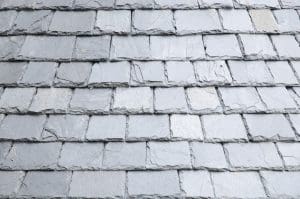 Stone Slate Roof in Missouri
Traditional stone slate is a great option for property managers in charge of classical churches, governmental buildings, mansions, airports, and other structures seeking old-world architectural brilliance and the longest lasting roofing material available.
Stone slate roofing is most premium roofing material available and it comes at a very high cost. The reason people are willing to pay so much for stone slate is because a traditional slate roof will generally last around 200 years when properly maintained. Commercial customers reason the very high cost of the material is worth it.
While stone slate is durable and long lasting, a high cost must be paid on an ongoing basis to properly maintain it as tiles are subject to cracking. Once a crack forms in a stone tile due to impact or a roofer walking on it, it must be fixed immediately because moisture and fluctuating temperatures will cause it to expand. Once water invades a cracked stone slate roof, it will only be a matter of time before a roof leak occurs, and this will inevitably lead to a need for costly roof repairs.
Weight is also an issue with a stone roof. Care must be taken by engineers to ensure proper load bearing capability is present in your structure, and that often means costly additions to your property in the form of support beams and additional building needs before a stone roof can be installed. The added weight will cause stress to your structure over time that must be carefully watched.
The advantage of polymer slate material is it is crack-resistant and relatively light weight. There is virtually no need for maintenance, and no need for additional structural support. Our slate roofing material also costs significantly less when compared to traditional stone, and is backed by our 50 year limited warranty.
It also mimics the look for traditional stone roofing. No one on the ground looking at your structure will be able to tell the difference - they will simply assume you have a very, very expensive stone tile roof. Our roofing is beautiful, long-lasting, maintenance free, and looks just like a real stone roof. Would you like a free quote? Call 314-652-3903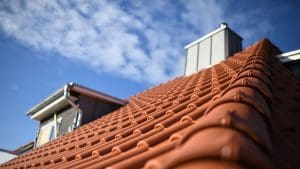 Clay Tile Roofing Contractor Illinois
Would you like a ceramic tile roof in St. Louis? Are you interested in Spanish tile in Missouri? In the market for ceramic tile roofing in Illinois? Look no further than St. Louis Synthetic Roofing.
If you haven't investigated the advantages of Composite Tile roofing over Spanish Tile, Barrel Tile, Clay Tile, Ceramic Tile, or other roofing materials, they are numerous.
First, synthetic clay tile roofing is not subject to cracking like traditional clay tile. Second, our composite barrel tile is easier to seal against moisture than traditional barrel tiling - leaks are a constant issue with them. Third, our polymer Spanish tile roofs are much cheaper than traditional Spanish clay tile or ceramic tile roofing materials.
Our composite tile roofs are backed by our 50 year limited warranty, and we guarantee our work.
St Louis Synthetic Roofing employs the best roofers in St Louis and the surrounding areas. Our roofing professionals have decades of experience installing roofing in and around the St Louis area, and we are here to serve you.
Would you like to get a free quote and complimentary roofing consultation? Give us a call at 314-652-3903
You may also fill out the Free Quote form on this website and one of our friendly roofing contractors will be in touch with you soon.