St. Louis Slate & Tile Roofing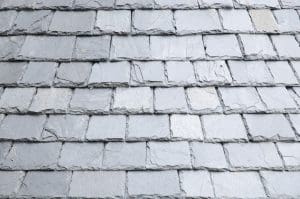 Outstanding Roofing Contractor St. Louis Chesterfield Ladue Town and Country MO
Slate roofing is a durable, natural, premium quality roofing material that is very popular among homeowners and commercial property owners in St. Louis. One of the benefits of slate roofing is the long-lasting nature of the product, but there are some downsides as well.
Natural stone slate roofing tiles are very expensive, very heavy, and prone to cracking and leaks. When you invest in a slate roof in St. Louis, you are going to pay a lot on the front end and will have to continue with diligent maintenance in order to protect your investment. In addition, the heavy nature of natural stone slate roofing causes a significant amount of structural stress. Often a structures framework has to be reinforced in order to make it safe to hold a stone roof.
Benefits of Faux Slate Tile
Slate roofs are nice, but for those interested in having the classic slate look without all the hassle associated with slate tile, we would like to invite you to check out the difference synthetic slate material can make for you. Our faux slate tile roofing material is light, much cheaper than stone, is not prone to cracking and virtually maintenance free, and will last the rest of your lifetime guaranteed.
With our synthetic slate roof material, you will save money without having to worry about the heavy investment in future maintenance. Our synthetic slate material is a better buy, and is catching on in a big way in St. Louis. Contact us for a free estimate at 314-652-3903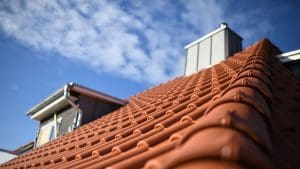 Tile Roof St. Louis MO
Tile roofing is used one of the oldest roofing materials on record that continues to be used today due to the durability of clay tile and the beautiful look clay tile adds to a building's architecture. While clay tile is generally durable and a high quality premium roofing material, tile roofing is prone to cracking, water leaks, and requires consistent maintenance over the years.
Like slate, tile roofing is not a "install it and forget it" roofing option. Maintenance will be needed, and it will be expensive. Problems can be caused by clogged gutter, rusted nails that cause tiles to loosen, and metal flashing that becomes worn out.
Maintenance on a tile roof is a specialized task that not a ton of roofers in St. Louis are qualified to handle. It takes years of experience working with clay tile roofing to develop an eye that can spot common problems and issues.
Synthetic Tile, Composite Clay Tile Roofing in Missouri
Customers in St. Louis, Chesterfield, Ladue, Town and Country, and the surrounding areas are generally pleased to find out there's a company locally that specializes in Synthetic Clay Tile Roofing material.
Our composite tiles will not crack, are lighter, more flexible, and less prone to leaking, and are virtually maintenance free after installation.
If you'd like to investigate what it would take to invest in roofing material that IS an "install it and forget it" solution for your new roof in St. Louis, contact us at 314-652-3903
We would love to speak with you today about our outstanding synthetic clay tile roofing options.